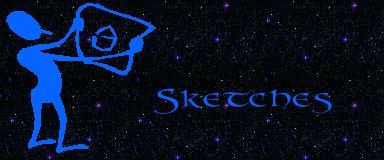 This page started as a small service to users of the 5 inch Nexstar 5 , particularly those in light polluted areas, and was designed to show what should be in the field of view of the standard 25mm Plossl eyepiece. Now that I have an 8 inch Meade LX-90 further sketches will be with that scope using its standard 26mm Plossl eyepiece. The original sketches were drawn again in Paint Shop Pro but only to make them look a little "neater". Any errors in the original sketches have been faithfully transferred to the new image.
Some of the sketches have been made at another site in Dorset where light pollution is much less.
IMPORTANT
To see some of the dim detail it may be necessary to adjust your monitor brightness. To check if you need to do this use the graphic below.

Just click on the object number or name in the lists below and a sketch will appear in a small window. To close click on the "x" in the top right corner of the new window or select another object.